Hamburger
Cheeseburger
fresh crispy lettuce, tomato, mayo and pickle
Black & Blue Burger
crumbled blue cheese, BLT
Bacon Chicken Ranch Burger
grilled chicken, jalapeno jack cheese, BLT, ranch dressing
Jalapeno Burger
jalapeno jack cheese, spicy sauce, mayo, lettuce, tomato
Served with Syrian Bread
House, Italian, Greek, or Caesar dressing available
Bleu Cheese and Ranch dressing add 50 cents
Prices subject to change. State & Local 7% Meal Tax not included.
Before placing your order, please inform your server if a person in your party has a food allergy.
* Consuming raw or undercooked meats, poultry, seafood, shellfish, or eggs may increase your risk of foodborne illness.
$10.69
$11.65
$11.65
$11.65
$11.65
Call to Place an Order
508-653-8879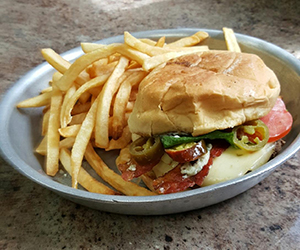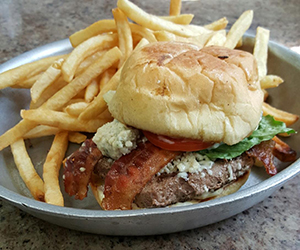 Bacon Chicken Ranch Burger
All burgers served with your choice of french fries or onion rings and a can beverage or Poland Springs water.